Looking for ideas on how to make or where to buy a Despicable Me Gru costume? Felonious Gru is the lovable ex-villain of the
Despicable Me movie series. This costume is pretty easy to put together with a few accessories. The official Gru costumes feature the character wearing a grey black jacket, striped scarf and black pants. He has a bald head. a big pointy nose and arched eyebrows. If you don't buy a costume, you'll need to work on creating broad shoulders, unless you're already built like this Despicable Me character! Most of the items for this costume can probably be found in any guys closet and if not they're easy enough to find.
Shop Despicable Me 2 costumes and get 20% OFF 1 item from Spirit Halloween! Use promo code 20OFF2013 at checkout. Ends 10/25/13. Click Here!
Despicable Me Gru Costume Mask
This Despicable Me Gru mask is officially licensed and features his villainous expression.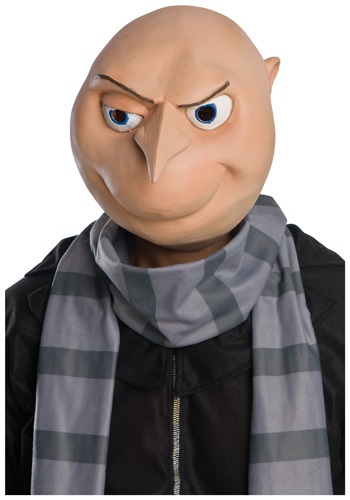 Full Mens Despicable Me Gru Costume
This full costume comes with a mask, shirt and pants. The only thing you'll need to complete this Halloween costume is shoes! This one size fits all Men's costume fits up to a mens size large.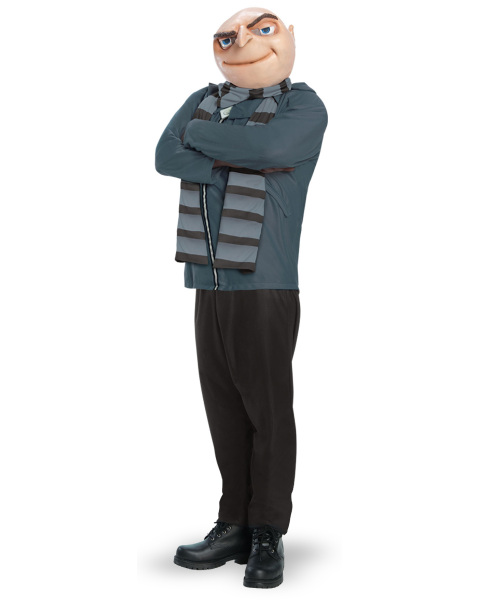 Despicable Me Gru Costume Video with Steve Carell